A few months ago I watched an add on Facebook about resin art and was fascinated. I looked further into it by watching artists on YouTube and the more I looked into it the more ideas sprung to mind. Of course like everything else just buying the ingredients to create something beautiful isn't enough to actually do it. Like every other skill a new art form needs to be learned, explored and invested in.
I started out with ordering a starter kit, including my first batch of resin, some molds, colors and sparkles. There where some pipettes and Popsicle sticks included as well. As far as starter kits go it wasn't bad and gave me amply opportunity to experiment. As expected the first few pendants I created where quite… "unusual" or rather didn't come out as I expected. I used too much sparkle, didn't get the air bubbles out and some of my color combinations where really not mixing well. Needless to say you won't find me selling those at the Farmers Markets this year.
They aren't ugly per se, but they aren't exactly what I would call noteworthy either. Some I kept working on and managed to improve them, but others ended up in the "I hope I can make something else out of" pile.
However, I'm a little obsessive when I discover something new. Often to the point where I forget all the other things I should be doing. I loose myself in the creation of something new. In the fascination of combining some liquid, color and sparkles to create something that didn't exist before.
What fascinated me the most was the possibility of working other elements into my creations. Things you find in nature, like leafs, sand, stones and flowers. For Christmas I ordered a Merry Christmas mold and worked LED lights into the mold, which looked amazing. Sadly since it was my first one it didn't exactly turn out as I wanted and this one won't be for sale either. But I'm fairly certain there will be some for next Christmas. It will depend on the pandemic and if by then the world is at least sort of back to normal.
At the same time as I was exploring resin our local Co-Op ran a promo for Hay Clay, giving free clay out with every purchase. The last time I had worked with any kind of clay was when I was a little kid but I remembered verry well how much I liked it. When first working with the Hay Clay I fell in love with the texture and now easily it was manipulated. I started out with some roses, which I still have no use for, but it gave me some ideas.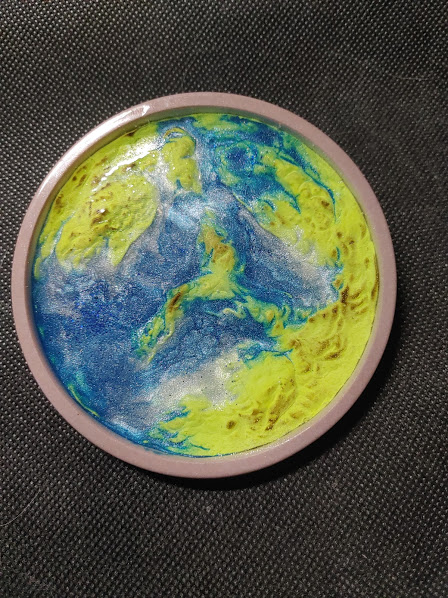 Which led me to what I am doing now, coasters and small trays. I tried other designs as well, some with text, or fillers, but these are the ones I love doing the most, landscapes. You can find many more designs in my photo gallery here… if you are interested in buying one feel free to contact me. The simple ones are $6.00 each the ones with a fancy rim are $6.50 There is also the option of placing a photograph of your liking inside the coaster as a memorable gift. In any case you will see them at events I participate in this year, like the local Farmer Markets.
By the time summer comes around I will be able to offer you a large selection of jewelry, and decorative items made from resin.