If you have followed my artistic journey, you might have noticed that I love to teach myself new skills, or try new things within the skills I gained already. This time it's teaching myself a new skill and combining it with some I already gained. I always loved wood. I look at the grain, especially with plywood, and see forms, shapes and sometimes whole figures in them. On top of that its easy to work with, while still being a sturdy material.
When I started working with resin, I saw some videos of people using it to make the most amazing table tops. I always wanted to do one, but just the investment scared me, plus the size of the project doing a dinner or coffee table.
Then, this summer with started a small building project on the house. Which forced me to bring all those nice wood working tools, like table saw, miter saw and saw horses up from the barn. Most of it hadn't been used for several years. Projects like the one we did this year always stretch out because often I have to wait for my husband to be home. This one was no exception. While I waited for my husband to have the time to pour a concrete slap, I played around with the plywood I found in the barn and build some displays for my merchandise that would give me some more space on my tables ones Farmers Markets would start up again.
Don't get me wrong those displays where a little crooked, wavy and certainly not straight. But, they fulfilled their purpose and made me fall in love with woodworking. Yet a project as mentioned before still is far from possible for my skills. Instead I decided to start with fixing up our little sofa table. You know one of those you can slide under the couch or sofa and have everything right in front of you. The result wasn't as amazing as I hoped but it showed me that the picture I needed to use had to be thicker so the grain of the wood used wouldn't show through.
For the past two years I had some laminated mouse-pads in my inventory and decided to use one of those the next time. This time I wasn't just fixing up a sofa slide in table, but would build it from scratch. It took me a few tries and a week, but the end result looks really good.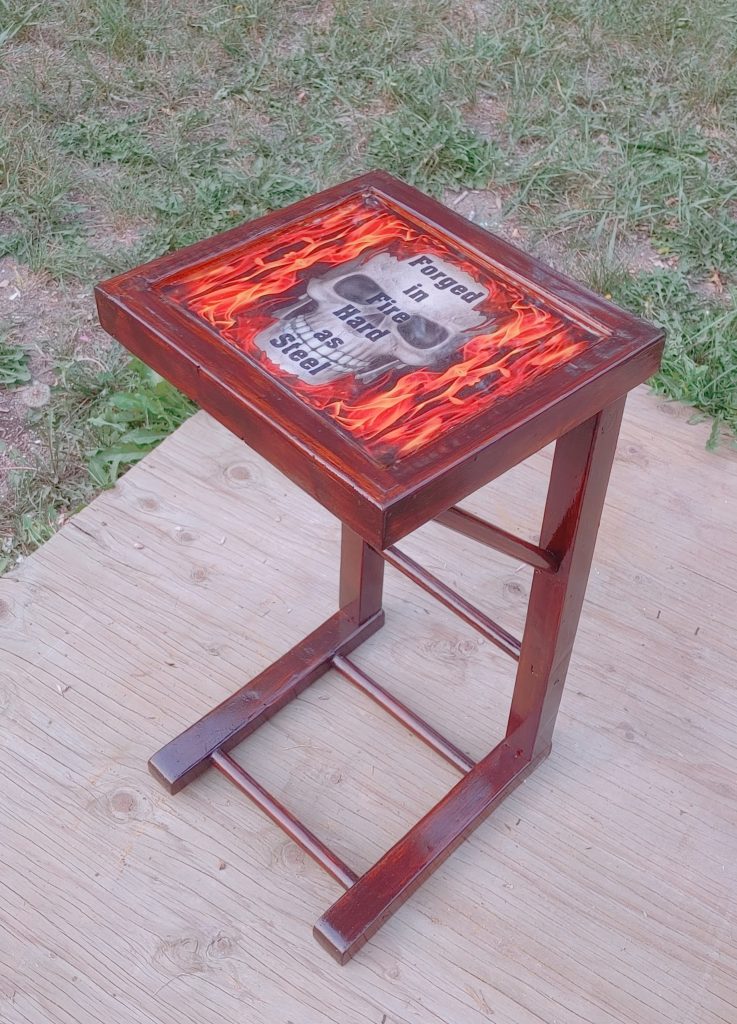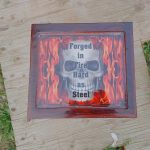 It's not as perfect as if a trained carpenter would have done it, after all it's my first finished piece. It's sturdy and will hold two full 2L coke bottles without tipping or breaking. It's available for $45 CAD which I know seems like a lot, but if you consider time spend building it, plus the material (especially with the price for wood) I don't make that much money on it in the end. And in stores I have seen them being sold for around the same price and those are just mass production pieces. Mine are unique.
Now, as much fun as building this table was, I have some posters and prints that are simply to big for this kind of project. So I tried to think of something that could incorporate the larger art works and jet still be useful, instead of just hanging at a wall. The result are serving trays. There was a time where I had two or three in my possession. I know you can get a nice looking serving tray at most stores for around $10 to $20 CAD but again they aren't unique, while mine are. On top of that, you can order one custom made if you like. For example if you have a wedding picture, a collage or your own art work I can make a serving tray for you with those.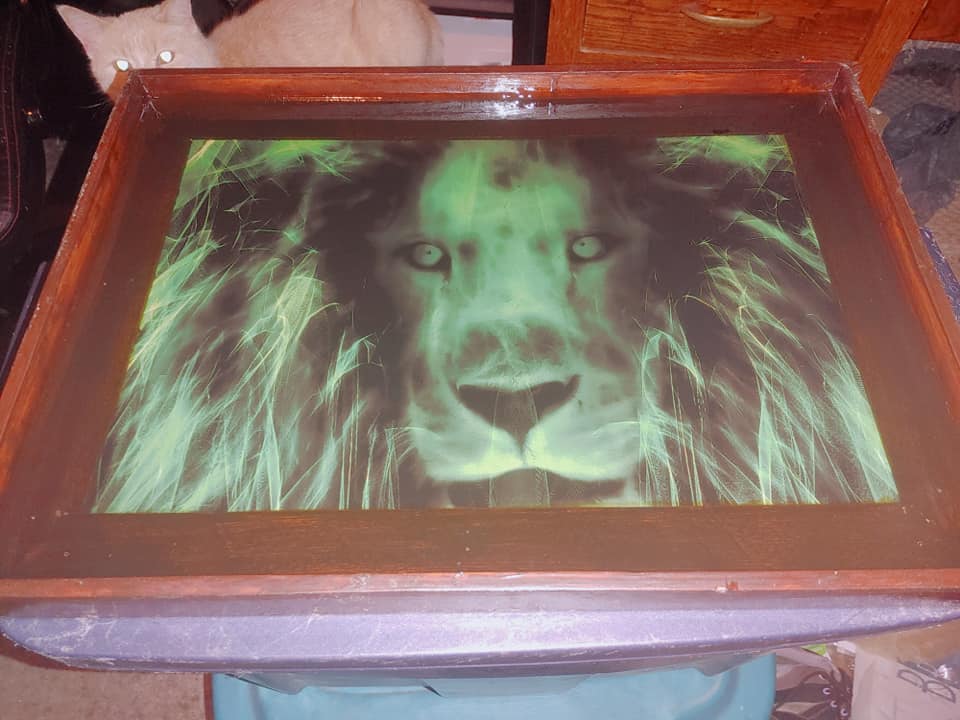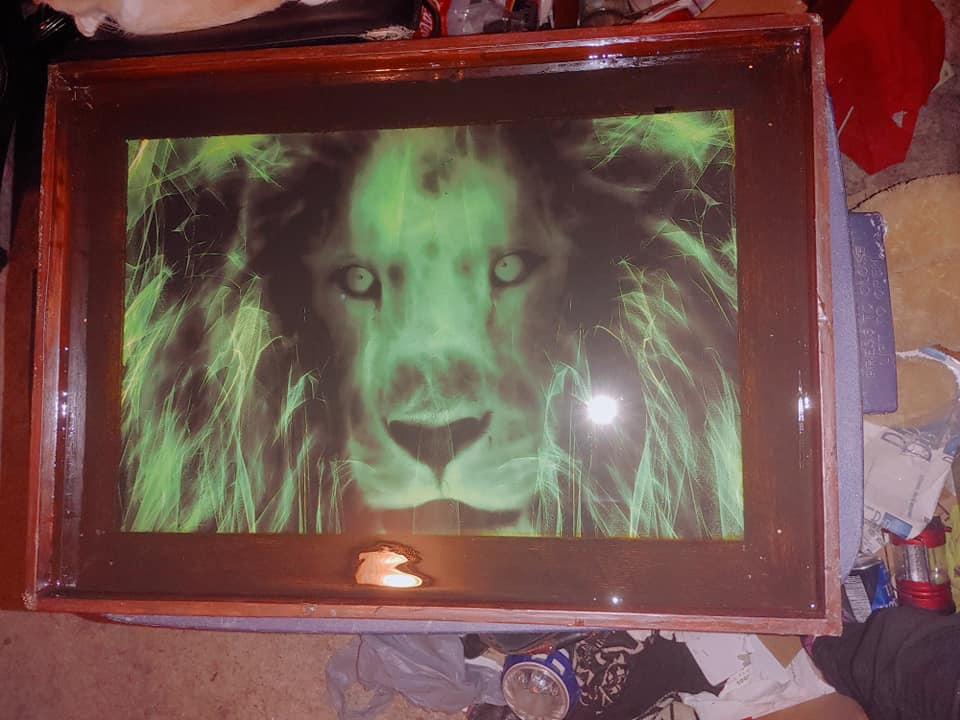 Now, the pictures aren't the best but this is a 14″ x 20″ wooden serving tray that shows my green lion design which is covered with durable resin. At the moment it still needs to cure a few hours and then another coat of paint, but by the next farmers market it will be ready. Cost will be $40 CAD plus shipping if you are from further away. Contact me if you're interested and would like to buy it, or if you want to talk about ordering one custom made.
Obviously my woodworking trials and errors won't end here. I'm planning on doing a few more pieces before the big market in Boissevain next month. Check my events calendar in the sliding out side bar for more info of where you can meet me and buy my creations.